Air Conditioning Maintenance
When it comes to Air Conditioning maintenance, you want no stone unturned, nothing left to chance, which is why we make your air conditioning maintenance hassle free, convenient, and rewarding. At Dependable Heating and Cooling, we take advantage of the latest technologies to ensure that your system is running at peak efficiency, saving you time and money on energy costs and unexpected breakdowns.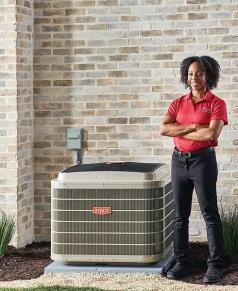 The Process:
We go through your entire system and test every component making sure that your air conditioning system is running at manufacture specifications. If we find trouble or a potential weak spot, we will bring it to your attention and give you our most cost-effective options with our easy 5 option flat rate pricing system.
When you call Dependable Heating and Cooling, we help protect your investment from wear and tear, costly breakdowns, and extend the overall life of your home's air conditioner.
There are lots of benefits to keeping your air conditioner maintained, many include:
Lower utility bills
Extended equipment life
Fulfill manufacture warranty demands
Fewer Repairs
Improved Cooling Capacity
and much more!
---
Ask About The Comfort Care Club
---
WHAT PEOPLE SAY
S. Venegas
We've been using Dependable Heating and Cooling for 16 years. Stacey is honest and professional! He does a great job!!!
J. Baker
The service is great they are friendly and know the equipment they are working with. I am referring my Aunt Pat. Pat Carlisle she is looking for a good furnace and air conditioner company
M. Lole
Friendly efficient service. Answer any questions you may have. Easy pay monthly plan for yearly scheduled service on furnace and air conditioning. And they call to schedule so you don't have to remember to. Great service.