The next generation of duct cleaning is here!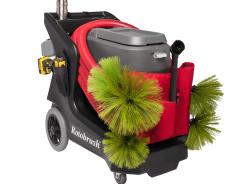 This state-of-the-art machine goes down every heat register in your home and lifts and vacuums any dust and debris right at the source giving your in-home ventilation system obstruction free pathways that promotes better health and cleaner air.
Get your ductwork cleaned with
The most advanced duct cleaning system
Your duct system is used every time your furnace or air conditioner turns on and circulates the air throughout your home. This means that any dust, dirt, or debris that is not caught by your furnace filter or settled on every day surfaces is trapped inside the ductwork. This builds up over time and eventually begins to create obstructions for proper airflow, reduces efficiency, increases energy costs, and increases airborne pollutants. Having your ductwork cleaned helps reduce the amount of in-home dust, helps with allergies, increases comfort, and promotes a cleaner environment in your home.
If your home is an older home or has never had duct cleaning service done before, you may be missing out on taking advantage of the benefits it offers. Call Dependable Heating and Cooling today at (810) 348-4791 to schedule your free estimate and look forward to cleaner air with The Brush Beast. Serving residents in the Oakland, Macomb, and parts of Genesee County.